The Alexandria Professional® Body Sugaring Blog
June 14, 2014
Skin. We hear that word and what comes to mind? The organ that covers and protects our beautiful bodies. Now think the words "skin care."
Skin care is thought of in different ways. Some may think about the products they use to fight pimples or the thousands of creams they've tried on their face to fight signs of aging. But what about the skin everywhere else? Are you taking care of it? Giving it the nutrition and attention it needs and deserves? Skin is what covers us and we tend to abuse it, take advantage of it, and often times overestimate how much it can handle. Your body's skin needs attention too. It needs to be nurtured from the inside out to look healthy!
Speaking of healthy skin, everyone has different types of skin, or ethnic skin. A beauty product that may work wonders on someone with Asian skin, may not work so well on someone with African American skin. For example, certain methods of hair removal. Perhaps African American hair is too coarse to be removed by one method, while the same method removes the hair of a different ethnicity's perfectly fine. Sugaring body hair removal is great because it works on ALL skin types and ethnicities. Sugaring removes the hair from the root, gets rid of and prevents ingrown hairs, plus it conditions the skin to be smooth and radiant!
A common occurrence in darker skin is becoming dull and greyish, or as many call it, "ashy." Sugaring can help prevent this by removing the top layer of dead skin to reveal the beautiful radiant skin underneath. Then, massage in a little Phenomen-all® with the Restore® lotion to leave your skin super hydrated and feeling great! Also, you don't need to only get sugared when you have hair. Go for the feeling of smooth, exfoliated and conditioned skin.  It will thank you for taking care it!
Darker skin is also more susceptible to acne or inflammation due to the sensitive skin. To rid your skin of acne, use the Presept® skin cleanser daily to cleanse the skin of makeup and bacterial buildup. Then, follow with a spritz of Essential Tonic® to the face and spot check affected areas with the Mud Puddle®. Let the mud dry then wash off gently with warm water. Finish with Restore® hydrating lotion and massage affected areas with a very tiny dab of Phenomen-all® to help prevent scarring!
On a side note, all skin types or ethnicities, are susceptible to getting sunburnt. Never leave home without your Mud Puddle®! It can heal your sunburn in 1-2 applications. Going on vacation this summer? Don't forget to add it into your suitcase!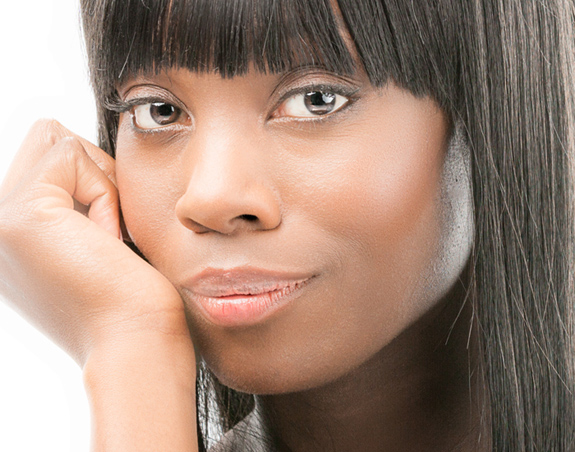 "Es geht nicht um Ihre Hautfarbe, es geht um Ihre Haut..." - Lina Kennedy, Präsidentin/CEO